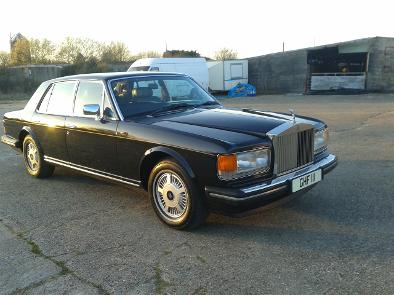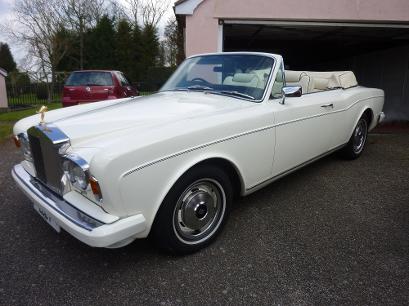 A RARE OPPORTUNITY TO ACQUIRE A 1980 (REGISTERED 14/08/1980) ROLLS-ROYCE CORNICHE THE CAR COMES IN OLD ENGLISH WHITE, MAGNOLIA INTERIOR WITH BLUE CARPETS. THE CAR HAS BEEN IN THE CUSTODY OF THE SAME OWNER FOR 30 YEARS AND HAS BEEN MAINTAINED WITH ALL REGULAR SERVICE SCHEDULES AND MORE RECENTLY BY OURSELVES. THE MILEAGE IS VERY LOW AT 63,692 AND ALL MOT CERTIFICATES ARE PRESENT WHICH VERIFIES THE CORRECT MILEAGE. THE CAR COMES WITH A CURRENT MOT AS OF MAY 2018. THE CAR HAS BEAUTIFUL WOODWORK WHICH HAS BEEN RE- FURBISHED WITHIN THE LAST TWO YEARS. ALL BRIGHTWORK IS EXCEPTIONAL AS IS THE CONDITION OF THE INTERIOR. THIS CAR HAS ALWAYS BEEN GARAGED THROUGHOUT ITS LIFE AND AS A RESULT THE UNDERSIDE IS IN EXCELLENT CONDITION. PRICE £59,950.
A 1982 CORNICHE WITH A LOW MILEAGE OF 65000, NEW MOT IN DECEMBER 2014 HAVING BEEN RE-IMPORTED FROM THE UNITED STATES. THE CAR HAS UNDERGONE SOME UPGRADES WHILE IN THE USA WHICH INCLUDE AN AFTERMARKET FUEL INJECTION SYSTEM AND WORK DONE TO THE SUSPENSION TO IMPROVE THE GENERAL HANDLING. THE INTERIOR IS IN EXCELLENT CONDITION AS IS ALL THE WOODWORK. BRIGHTWORK IS LIKE NEW WITH NO SIGNS OF PITTING. ALL ELECTRICAL ITEMS WORK AS TO BE EXPECTED WITH A CAR THAT'S BEEN MAINTAINED TO THIS STANDARD. RECENTLY SERVICED BY OURSELVES AND IS READY FOR SUMMER MOTORING.THE CAR IS CURENTLY LOCATED IN MONACO. £55,000 CAR IS NOW SOLD.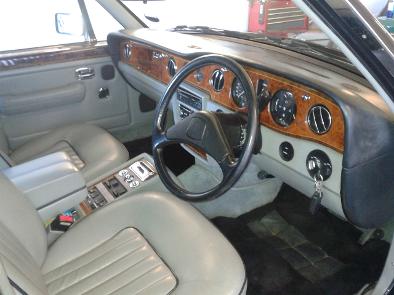 A 1990 SILVER SPIRIT II WITH GREY HIDE INTERIOR PIPED IN BLACK. LOW MILEAGE EXAMPLE RECENTLY SERVICED BY US. INTERIOR WOODWORK AS NEW.NEW MOT, UNDER 60,000 MILES, FULLY STAMPED SERVICE HISTORY £12,995.
SOLD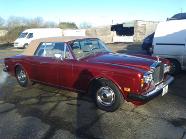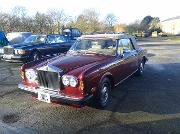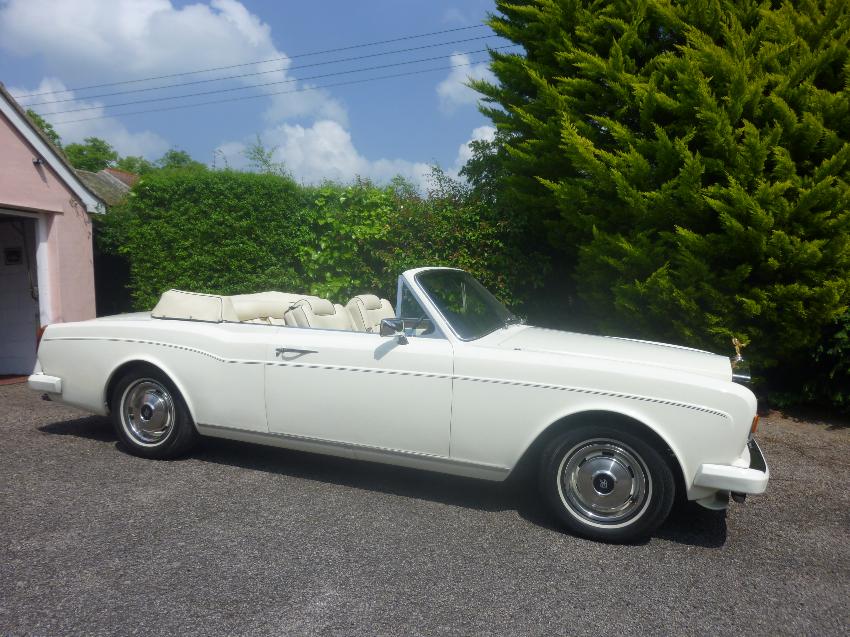 1980 ROLLS-ROYCE CORNICHE £59.950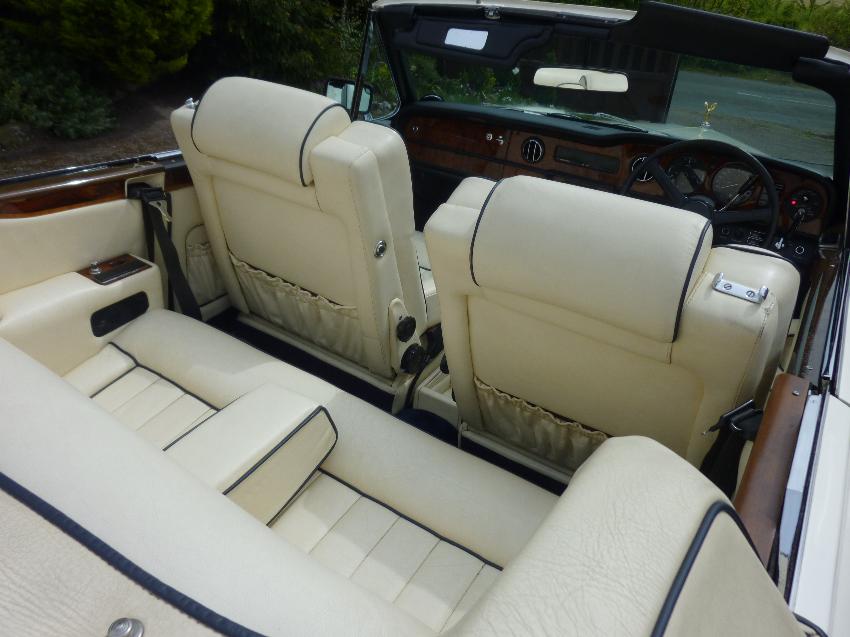 A 1979 ROLLS-ROYCE SILVER SHADOW WITH LOW MILEAGE OF 78000 WITH FULL SERVICE HISTORY BENEFITING FROM A COMPLETE BARE METAL RESPRAY,NEW CARPETS THROUGHOUT. IN STUNNING CONDITION INSIDE AND OUT AND BEING CARED FOR BY THE PRESENT CUSTODIAN TO MAINTAIN THE CAR IN PERFECT ORDER. A VIEWING IS THOROUGHLY RECOMMENDED TO APPRECIATE THE QUALITY OF THIS CAR. £24,995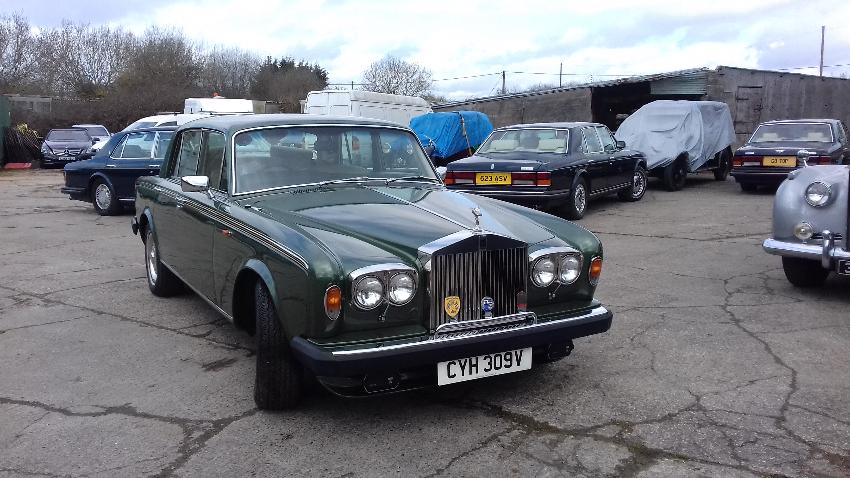 A 1975 SILVER SHADOW IN EXCELLENT ORDER HAVING BEEN REPAINTED A FEW YEARS AGO IN A SLIGHTLY MORE MODERN COLOUR. ALL BRIGHT WORK IN SUPERB CONDITION AND THE UNDERSIDE IS EXCEPTIONAL HAVING BEEN REALLY WELL CARED FOR BY THE PREVIOUS CUSTODIAN. ENGINE BAY ALSO IN PRISTINE CONDITION AND THE INTERIOR UPHOLSTERY, WOODWORK ALL AS YOU WOULD EXPECT FROM A CHERISHED CAR. MILEAGE OF 71300, BEIGE INTERIOR. ALTHOUGH THE CAR IS MOT EXEMPT WE WILL PUT A NEW MOT ON THE CAR FOR ANY PURCHASERS PEACE OF MIND. VIEWING RECOMMENDED AT A PRICE OF £13,995.